Japan is famous for a LOT of crazy things, tentacle porn, used panty vending machines, BabyMetal (you're welcome), but they're also horror heavy hitters, and arguably the innovators of larger than life monsters. Therefore, it should come as no surprise that Japan has gone and done something amazing like open a monster bar!
Kaiju Sakaba literally translates as "Monster Bar," and it's exactly what the sign says: the décor (inside and out), the drinks, the food, and every damn inch of the place is based on giant monsters, robots and assorted gadgets, mostly from the classic Ultraman TV series.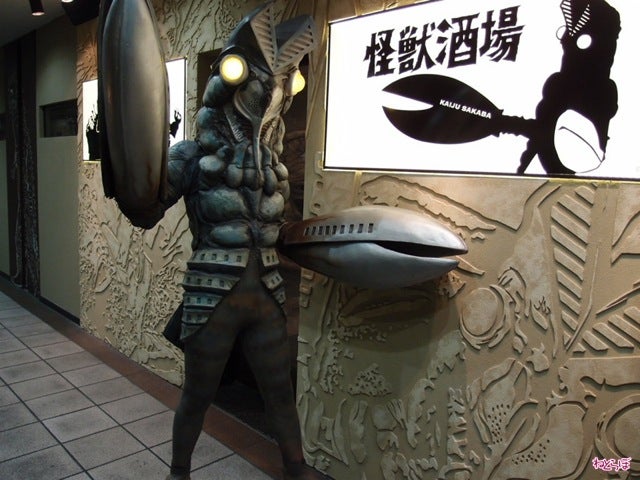 The bar has made headlines worldwide, showcased on sites like Kotaku East, Game Impress Watch, Net Lab, and Get News.
Kotaku East just ran a sweet photo feature
on Kaiju Sakaba, and the images are basically a preview of heaven for giant monster fans and Japanese pop-culture junkies alike.
The bar and restaurant are divided into themed sections, with tables, booths and wall designs based on different Ultraman characters. There are also multiple display cases lining many of the rooms, each filled with hundreds of monster and robot figures, weapons, vehicles and other amazing memorabilia.
Kaiju Sakaba
officially opened its doors today, but they will only remain open for one year… still, plenty of time to save up for the trip, right?